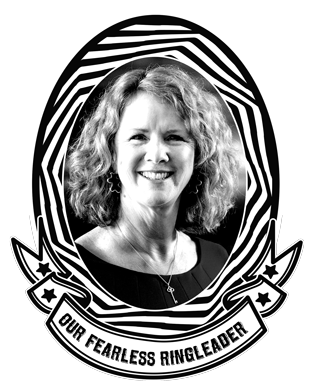 What's interesting about Burning Man is you have a chance to really understand that the work is bigger than yourself and that there's so much reward that comes from giving and connecting with others.
Burning Man Annual Report - Letter from the CEO
I am constantly impressed by the outpouring of creativity and dedication from this community. 2015 was a growth year for Burning Man, as ideas rooted in the ethos of Burning Man took flight and flourished across the United States and around the globe.
Here at the Burning Man Project, we work to support and nurture the dreams of people inspired by Burning Man experiences and the Ten Principles. We strive to provide tools and services to individuals, communities, and gatherings working to build a more connected and joyful world. And, luckily for us, there is simply no shortage of brilliant minds and passionate hearts in this endeavor.
2015 was about investing in infrastructure and establishing a foundation for the future. We actively engaged in conversations with artists, Theme Camp leaders, event producers and others to determine how Burning Man Project can best assist and support them in creating and cultivating Burning Man culture in the world. We worked to develop systems and processes to help people have a broader and deeper positive impact with their effort.
And we officially welcomed Burners Without Borders under our roof. It now sits nestled within our new Art and Civic Engagement team, and will continue to support initiatives around the globe that foster innovative approaches to community resiliency, grant giving, and grassroots initiatives.
While building and integrating systems at home, we also engaged in exciting initiatives and collaborations abroad, including Artichoke Trust's Temple Project with David Best in Derry-Londonderry, Northern Ireland. This ambitious venture brought people together across religious and political barriers, serving as a source of healing for a community living with a legacy of conflict and division. The Temple was visited by over 60,000 people, burned in front of 20,000 onlookers, and was hailed by local residents as the largest, most peaceful gathering in recent memory.
Towards the end of the year, we made two key strategic hires to further our evolution as an organization serving the public good. Kim Cook joined as our Director of Art & Civic Engagement, a new role created to align and increase the impact of Burning Man Project''s year-round arts and civics initiatives. We also welcomed Theresa Duncan, Burning Man's new Director of Philanthropic Engagement, who is leading the development and execution of a fundraising strategy that honors Burning Man's culture of gifting and inclusion while supporting its global mission.
In all of this, Burning Man is learning what it means to be a not for profit organization and how best to communicate and operate in this new realm. This is an exciting process, and we invite you to be a part of it.
Without your support, enthusiasm, engagement and dedication our culture would not exist. You are the makers, the doers, the performers, the builders, and the dreamers. Burning Man Project is driven by community. Thank you for making another wonderful year possible. We look forward to many more ahead.
Warmly,
Marian Goodell
CEO/Chief Engagement Officer,
Burning Man
The Burning Man Event in Black Rock City
The largest annual Burning Man gathering is an immersive, all-encompassing experience that also serves as a laboratory for prototyping new models of art, civics, urban design, and collaborative creativity in virtually every area of human endeavor. It is the crucible of Burning Man culture.
Arts and Civic Engagement begins with Black Rock City and achieves global impact through a range of national and international efforts grounded in the ethos and history of Burning Man. We learn from the playa and from our community, generating programs to serve and amplify the possibilities and realities that are born from them both.
The Burning Man organization serves as a hub for a large and growing network of cultural innovators, who are working to ensure that Burning Man is a powerful force for positive change in the world. The Global Network provides opportunities for cross-pollination and collaboration among Regional Contacts, Regional Event production teams, and Burning Man community leaders around the world.
Learning and teaching are woven into everything we do as an organization and as a community. Burning Man facilitates unique educational opportunities including conferences, symposia, and fellowships. Together we are learning how to build and rebuild cities, to create, to organize, and to lead.
Our community is committed to a radically participatory ethic. We believe that transformative change, whether in the individual or in society, can occur only through the medium of deeply personal participation. We achieve being through doing. Everyone is invited to work. Everyone is invited to play. We make the world real through actions that open the heart.
Gifting: Engagement and Contributions
Gifting is a fundamental part of what makes the Burning Man ethos work. In our community, gifting takes many forms. We work to acknowledge every type of gift in our community and to honor the important role each one plays. Burning Man would simply not exist without seemingly endless expressions of generosity.
Radical Inclusion
Anyone may be a part of Burning Man. We welcome and respect the stranger. No prerequisites exist for participation in our community.
Gifting
Burning Man is devoted to acts of gift giving. The value of a gift is unconditional. Gifting does not contemplate a return or an exchange for something of equal value.
Decommodification
In order to preserve the spirit of gifting, our community seeks to create social environments that are unmediated by commercial sponsorships, transactions, or advertising. We stand ready to protect our culture from such exploitation. We resist the substitution of consumption for participatory experience.
Leaving No Trace
Our community respects the environment. We are committed to leaving no physical trace of our activities wherever we gather. We clean up after ourselves and endeavor, whenever possible, to leave such places in a better state than when we found them.
Radical Self-expression
Radical self-expression arises from the unique gifts of the individual. No one other than the individual or a collaborating group can determine its content. It is offered as a gift to others. In this spirit, the giver should respect the rights and liberties of the recipient.
Communal Effort
Our community values creative cooperation and collaboration. We strive to produce, promote and protect social networks, public spaces, works of art, and methods of communication that support such interaction.
Civic Responsibility
We value civil society. Community members who organize events should assume responsibility for public welfare and endeavor to communicate civic responsibilities to participants. They must also assume responsibility for conducting events in accordance with local, state and federal laws.
Radical Self-reliance
Burning Man encourages the individual to discover, exercise and rely on his or her inner resources.
Participation
Our community is committed to a radically participatory ethic. We believe that transformative change, whether in the individual or in society, can occur only through the medium of deeply personal participation. We achieve being through doing. Everyone is invited to work. Everyone is invited to play. We make the world real through actions that open the heart.
Immediacy
Immediate experience is, in many ways, the most important touchstone of value in our culture. We seek to overcome barriers that stand between us and a recognition of our inner selves, the reality of those around us, participation in society, and contact with a natural world exceeding human powers. No idea can substitute for this experience.